Does a Student Loan Affect a Mortgage in Canada?
Posted on 9 March 2023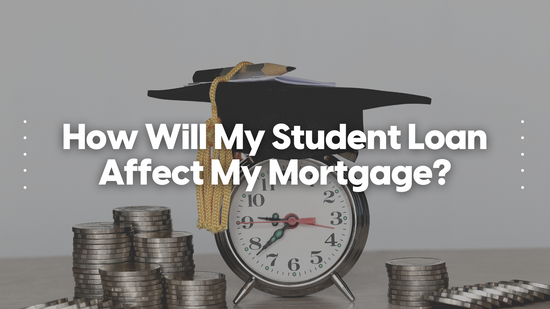 As a current, former, or future university or college student, you're probably asking, does a student loan affect a mortgage in Canada?
The TLDR answer is simply, yes, it will affect your mortgage application and the amount of money you're approved to borrow from a lender.
Student Loans Are Reported to Credit Bureaus
After you take out a student loan debt, it's treated the same way as any other sort of loan would be treated.
Each month, once your repayment period commences, your balance and payments will be reported to various credit bureaus such as Equifax and TransUnion.
It's vital to make payments on time, every time they need to be paid. This will create goodwill and trust in your future mortgage application, and will show that you're a responsible person who can be trusted to pay back a loan.
Existing Student Loan Debt Will Affect Debt-to-Income Ratio
As you move on from your post secondary studies and you enter the workforce, you will begin on the path of improving your debt to income ratio.
As your wages rise, and your debt decreases (because you're responsible and make all your payments on time!) your debt to income ratio will improve, and you'll subsequently become more likely to be approved and funded by lenders.
The better your debt to income ratio, the more you'll likely be able to borrow.
Paying Down Your Debt First Can Be Your Best Course of Action, But it's Not the Only Path
Because of the continual growth in the real estate market in Canada, young people leaving school have sought to become homeowners before completely paying down their student loans.
Some of this help often comes from parents or older generations of the family, but a solid and consistent income from yourself will be needed in order to become a homeowner with existing student loan debt.
You MUST Stay Consistent on Your Debt Payments
Regardless of the path you choose to take, it's vital that you pay down your student loan debt, and other debts for that matter.
Consistency in your payment history goes a long way with lenders, so if you're going to focus on anything, focus on perfection in that arena.
Are You Ready to Buy Now? Speak with a Mortgage Pro First!
It is possible to purchase a home while still carrying student loan debt, but the amount you have left to pay and your income will be the biggest determining factors.
If you're looking to enter the housing market now, give us a call at 1-(877)-241-6001! We help people just like you secure funding for their first home across the country every day!