Will Interest Rates Get Hiked Again? Only in This One Scenario
Posted on 16 February 2023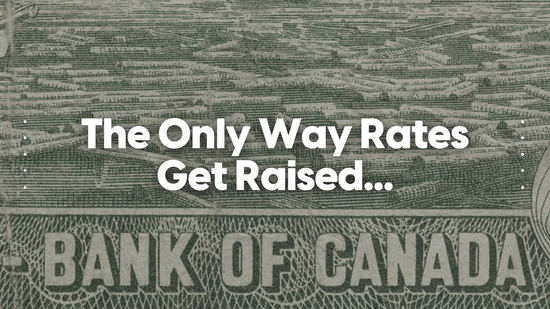 Canadians breathed a sigh of relief after the Bank of Canada announced a pause on hiking interest rates in January.
Today, homeowners and prospective homeowners are asking the question, in what scenario will interest rates get hiked again?
The Only Scenario that Will See Rates Hiked Again
Tiff Macklem, the Governor of the BoC recently was quoted as saying:
"If new evidence begins to accumulate that inflation is not declining in line with our forecast, we are prepared to raise our policy rate further… But if new data are broadly in line with our forecast and inflation comes down as predicted, then we won't need to raise rates further."
You can read Tiff Macklem's full remarks on future rate hikes by clicking here.
He continued to state:
"That's why policy needs to be forward looking… We shouldn't keep raising rates until inflation is back to 2%. Instead, we need to pause rate hikes before we slow the economy and inflation too much. And that is what we are doing now."
Simply put, as long as inflation continues to decline, there will be no need to raise rates.
Don't Lose Perspective on the Increases
After 8 consecutive rate hikes, the benchmark interest rate jumped from its extreme low of 0.25% to 4.50%.
Although the increases were frequent and persistent, the fact of the matter remains that the current interest rate is still well below the historical average.
In 1980, the overnight interest rate was 17%, so keep a long term perspective and don't let 4.50% insight panic!
We can't lose sight of the past and be discouraged by headlines on the news and financial content creators on social media – keep in mind, they're trying to get you to get hooked on their headlines!
So, Is Now a Good Time to Start Looking For a Home in Canada?
It's never a bad idea to begin looking at your options, and a recent report from the Toronto Regional Real Estate Board stated that home prices are expected to rise in the second half of 2023.
You can read more about that by clicking here.
The fact remains that Canada's immigration targets are sure to force the price of homes upwards, and that's without even taking into account the increasing housing crisis for the country's existing population.
Because of this, it's important you speak with an expert who can help you forecast what's coming down the pike so you aren't left facing even higher home buying costs.
Speak with a Mortgage Professional to Plan Your Next Steps
Get in touch with an expert mortgage professional from Sherwood and get all of your questions answered!
Give us a call at 1-(877)-241-6001!