Maintaining Successful Money Habits for 2023
Posted on 7 March 2023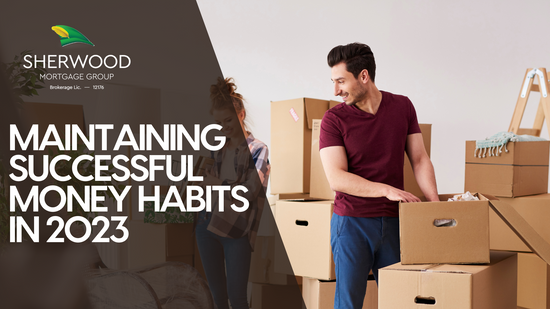 This year, you can create and maintain successful money habits for 2023 so you can pay down debt, save for a down payment, and become a homeowner!
It All Starts With a Goal and a Budget
Living on a budget can be a challenge, especially when the cost of living has been on the rise over the past few years. Inflation has been one of the main drivers of increasing living costs, but all of this is due to much more complex economic and geopolitical situations that have been unfolding rapidly since the rise of the pandemic.
This year you can make the choice to take control of your personal finances, and determine whether you'll be paying down debt to be able to start saving for your down payment, or saving for your down payment so you can become a homeowner!
Your Income and Your Budget Are In Your Control!
The truth of the matter is that we cannot have any direct impact on the inflation rate, or any other financial factors other than how we work for our income, and how we budget that income.
Because of this fact, it remains more important than ever to maintain successful money habits in 2023, especially if we are planning on becoming homeowners, or buying an investment property.
By readjusting our budgets each month, and having a defined spending plan, we will be able to reach our down payment savings goals faster and more efficiently so we can become homeowners in 2023, or add another property to our portfolio.
Common living expenses that you need to budget for to maintain successful money habits include:
Housing

Food

Transportation

Utilities

Debt Payments

Savings

Discretionary Spending.
The average cost of living varies by location, with Toronto having the highest average monthly cost of living at approximately $4,975 per month, and Montreal having one of the lower costs of living for a major metro area in Canada at approximately $3,038 per month. You can find more information on these statistics by clicking here.
We mention this simply to show that your household budget will look different depending on where you live in the country.
Keep the Larger Goal of Homeownership in Mind
The only way to stay on budget is to create a budget plan and stick to it, regardless of what life throws your way!
Successfully accomplishing this involves identifying your income, determining your necessary expenses, and setting aside money for saving. However, before saving, it's vital to knock out your debt payments if you have them.
Recalibrate Your Budget and Track Your Progress Towards Your Goal
It's also important to regularly (monthly) revisit your budget to make sure you're chipping away at any debt you might have, adding to your savings for your down payment, and making sure that you're not overspending in each of the categories that we listed above for your household budget.
As You Get Closer to Your Goals, Call the Pros for Help!
While living on a budget can be tough, the rewards that come with it, like homeownership, far exceed the sacrifices that you have to make!
As you continue to build your savings and buying a home becomes an immediate goal, give Sherwood Mortgage Group a call at 1-(877)-241-6001.
We will walk you through the steps it takes to become a homeowner in Canada, and guide you through the mortgage approval process from beginning to end!
Here's to 2023!